If you feel like you've caught summertime sadness and are already looking forward to the next holiday at sea where you can soak up the warm sun and be out all day, you should be considering Thailand as your next winter holiday destination!
With all-year-round amazing weather (and a little exception for the inconsistent rainy season from late July to October) this place is a literal paradise on earth.
With a full bucket list of amazing things to do, such as island-hopping, jungle exploring, trekking, visiting stunning temples, mountain climbing, and much more, you will want to book a holiday as soon as you finish reading this article.
---
Best places to travel in Thailand during winter
Phuket is a top destination for tourists all over the world. The island is rich in attractions and hosts a vivid nightlife, so it's perfect for enjoying a fun holiday with friends and family. Water sports and boat rides are the main activities here, but there's much more to discover.
Phuket reaches its peak season during Christmas when hotels and clubs host daily parties and the crowds of tourists get bigger.
Top things to do in Phuket
Temples: visit the beautiful Chalong Temple or reach the Big Buddha of Phuket, a 45-meter statue sitting at the top of Nakkerd Hill.
visit the beautiful Chalong Temple or reach the Big Buddha of Phuket, a 45-meter statue sitting at the top of Nakkerd Hill.
Phang Nga Bay: explore the beauties of this magical bay, rich in caves and enclosed lagoons. The sheltered position makes it perfect for discovering even during the rainy season!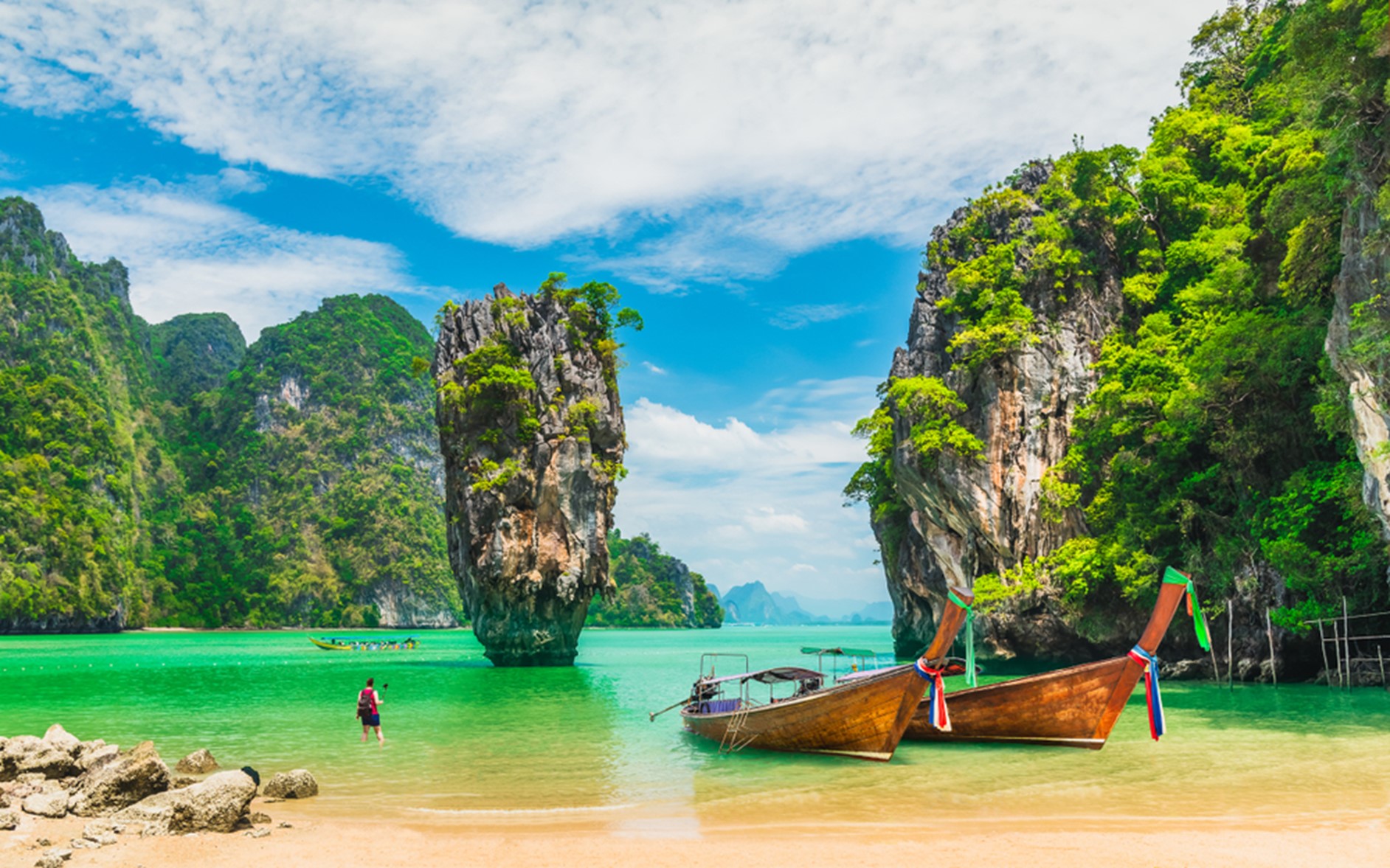 .
From Phuket, you can easily reach the amazing Phi Phi Island, where nightlife, dreamy natural location, and luxury accommodations merge into a once-in-a-lifetime experience for all senses. This corner of paradise boasts some of the most beautiful sandy beaches, surrounded by jaw-dropping landscapes of lush forests and dramatic cliff drops. A perfect destination for relaxing and exploring at the same time.
Top things to do in Koh Phi Phi
Koh Phi Phi Viewpoint: you can hike up to the stairs of Koh Phi Phi Don and enjoy the beautiful view of the island from above. About 20 to 40 minutes according to your fitness level, but definitely worth the effort!
Tonsai Village Market: if you want to merge into the Thai culture and buy some local products, visit the Tonsai Market next to Tonsai Bay.
Loh Dalum Beach: amongst the many beautiful beaches scattered on the island, Loh Dalum Beach is definitely the most stunning one. Located right in the middle of the island, you can walk extremely out of the beach when the tide is low.
The Gulf of Thailand is home to various islands and islets, each with its unique scenarios and vegetation. Koh Phangan is part of a small archipelago that includes Koh Samui and Koh Tao and it's one of the most famous destinations in Thailand for a holiday immersed in beautiful natural landscapes.
The island is also renowned for hosting some of the greatest Full Moon parties, which happen several times a year during every full moon phase and attract many young tourists from all over the world. However, these parties tend to divert attention from the real natural beauties of Koh Phangan, which has so much to offer if you're willing to explore!
Top things to do in Koh Phangan
Phaeng Waterfall: dive into the jungle and reach the largest waterfall on Koh Phangan, which is also part of the Koh Phangan National Park. The area surrounding the waterfall includes many trails that lead to various viewpoints.
Scuba Diving: the Gulf of Thailand hosts an amazing variety of marine life such as sea Turtles, sharks, and coral reefs that wait to be discovered. If you're not into diving, you can easily opt to snorkel around the island.
Beach-hopping: Koh Phangan is also famous for its stunning beaches, many of which are only accessible by the sea. Take your boat and discover the many coves hidden along the coasts, such as Hard Nam Tok.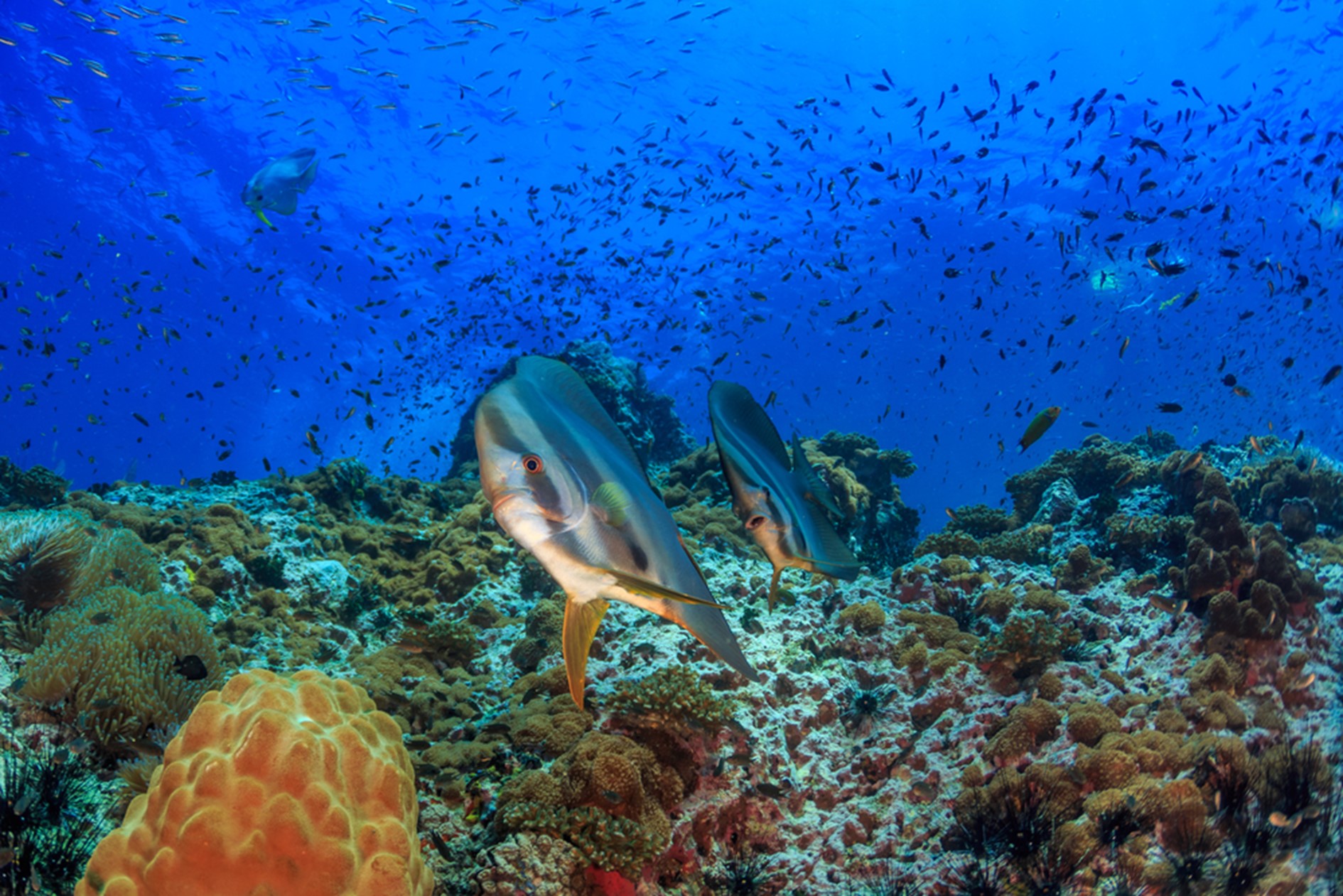 Koh Samui lies in the same archipelago as Koh Phangan, therefore you can easily island-hop to discover the beauties of these places at your own pace. Just like pretty much any island in this country, Koh Samui is another little corner of paradise full of lush vegetation, turquoise waters, and beautiful landscapes.
Top things to do in Koh Samui
Ang Thong National Marine Park: both Koh Phangan and Koh Samui are part of this amazing National Marine Park, therefore snorkeling and diving activities are strongly suggested. You can't resist those turquoise waters!
Big Buddha Temple: located on a tiny island 12 minutes from Koh Samui, the giant gold statue is sitting on top of a mountain in the temple of What Phra Yai. Easy to spot even when flying into Koh Samui due to its dimensions.
Chaweng Beach: this is the main spot for enjoying the vivid nightlife and relaxing on a beautiful beach simultaneously. Chaweng Beach is a long stretch of sand-rich with bars and restaurants where you can try delicious dishes and take advantage of the low-prized cocktails!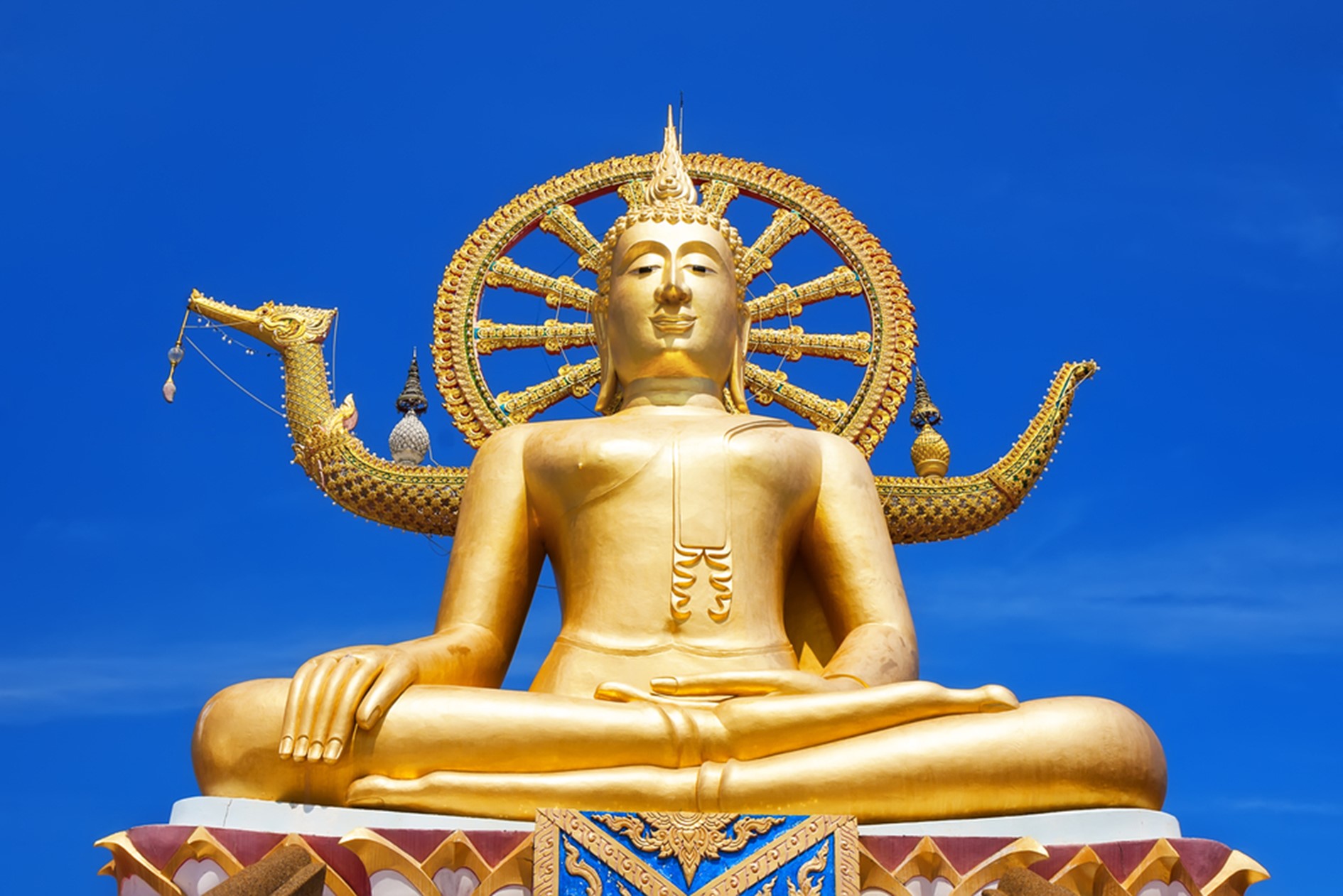 Thailand is not just about the islands. The southern province is filled with beautiful landscapes and is very much worth a visit, plus it's very close to Phuket and the nearby Phi Phi Island, therefore can be easily added to your list of places to visit in Thailand. Krabi is an enchanting place where lush vegetation and tropical paradise combine into one for an unforgettable experience, whether you're more into relaxation or wish to explore the beauties of this area.
Top things to do in Krabi
Emerald Pool at Forest Natural Park: yes, you can venture into the trails of a lush forest and reach a stunning emerald pool where you can enjoy a relaxing swim surrounded by nature.
Tiger Cave Temple: if you're willing to climb more than 1,000 steps, the Tiger Cave Temple is a beautiful white building covered in murals and overlooking the surrounding hills. A spectacular view accompanied by the presence of a giant golden Buddha statue and various caves to explore.
Phra Nang Beach: this is one of Krabi's most beautiful beaches, a soft sanded beach surrounded by imposing limestone cliffs and emerald waters. Snorkeling activities are strongly suggested and if you catch the low tide, you can also walk to two tiny islands nearby the beach. Quite a great spot for any sort of activity!
Wenn Sie daran interessiert sind, einen Winterurlaub in diesem warmen Paradies zu planen, empfehlen wir Ihnen, die Verfügbarkeit passender Boote auf unserer Website zu prüfen. Buchen Sie Ihr nächstes Segelabenteuer mit uns!